Canes
A cane is a great mobility aid choice for someone with minor balance issues. A can provide the balance support needed and is the least cumbersome mobility aid. Canes come in different shapes and sizes. Most commonly used canes include the  straight handled, or "T" cane. The handle on these canes are straight and are easier to grip than canes with curved handles. These can come with a single leg, or for those who need more balance support, canes with a wider base are available. At Sand Run Pharmacy, we carry many options of canes, including different sizes, designs, and colors. A pharmacist is always available to ensure  a proper fit. Stop in anytime to find one that is right for you!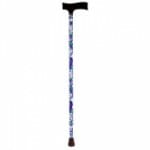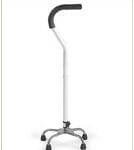 Walkers
Walkers are four legged mobility aids that provide more support than a cane. They are a great choice for someone with a balance deficit that cane cannot support. Unlike a cane, walkers may be used as a weight bearing device. Walkers come in many different styles. Walkers with four legs provide the most support and stability. Also available are walkers with two wheels in the front leg posts, which allow for smoother walking. For additional mobility, also available are walkers with wheels on all four legs. These walkers also come with a seat for the user as well as brakes to lock the wheels. Many accessories are available for walkers, including carry bags and trays, to provide further versatility. At Sand Run Pharmacy, we carry many of these styles, which are available to try out and find the one that is right for you. As always, a pharmacist is available to answer any questions you may have.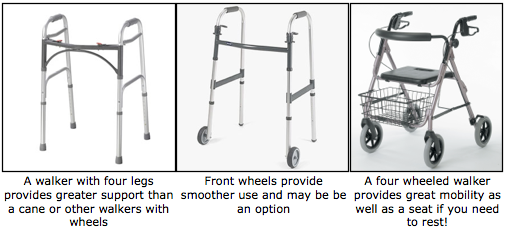 Wheelchairs
A wheelchair is an option for those who are unable to walk due to an injury or illness, someone who cannot walk long distances, or for someone who is recovering from surgery. A wheelchair provides the person with great mobility and allows the person to continue doing what they enjoy. Wheelchairs are able to be used by the person or may be pushed by someone else.  We currently only keep in stock transport chairs. These chairs are lighter weight but can only be used with an additional person pushing the chair.  Transport chairs are available to rent.  Please call to check availability of rentals.